About San Juan Wildlife Services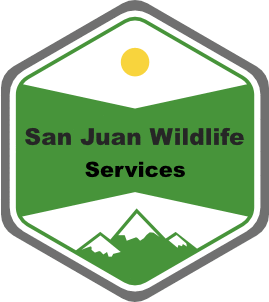 San Juan Wildlife is a family owned and operated wildlife control service. We offer humane wildlife removal, as well as repair and exclusion services to both residential and commercial properties in the Four Corners region.
Our company, which has been in business since 2017, is licensed and certified as an advanced wildlife control operator and bat management professional. Providing the most humane and safe wildlife management practices are central to the solutions we implement.
​As a small business who cares about our native wildlife, we practice the GREEN INITIATIVE using only natural and mechanical means of prevention and control.
In addition to removal and management, San Juan Wildlife also offers wildlife surveying and ArcGIS mapping services. These are provided by our Wildlife Specialist, Tara Harris. Tara has a B.S. in Natural Resources Management from Eastern Kentucky University. Prior to joining our team, she spent five years working for Public Lands Agencies  (US Forest Service and Bureau of Land Management).
Check out our surveying page for more details.
Meet Owner & Operator – Tom Hayes
Tom Hayes has over 25 years of operational and management experience. He also possess an extensive background in the management of nuisance wildlife. For most of his life, Tom has lived in rural areas where he owned livestock. As a result, he is well aware of and experienced in managing the challenges wildlife can create, especially within the rural setting.
Tom also has an abundance of experience in the building trades. His knowledge translates well into solutions necessary for repair and exclusion when it comes to nuisance wildlife encroaching your dwelling, garage, sheds, etc. 
As a certified expert in wildlife removal,  and someone who has been learning the ins and outs of mitigating wildlife issues for most of his life, you can count on Tom to take care of any nuisance you may be dealing with.