Coyote & Bobcat Removal in Colorado
Southwest Colorado Local Animal Control
Coyotes & Bobcats
Scientific name (coyote): Canis latrans
Scientific name (bobcat): Lynx rufus
Coyotes and bobcats are both mid-sized predators native to Southwest Colorado.
Coyotes are a member of the dog family resembling small German shepherds. They can vary significantly in size, color, and appearance. The most typical coloring is brown-gray with a light gray or cream underside.
The breeding season is usually between January and early March. Although pups are born in the spring and are weaned by six weeks, the adults and pups will typically stay together until fall or early winter. 
Predation by coyotes increases in the spring and summer as they raise their young. This corresponds to when young calves, sheep, and other livestock are on pasture, making these animals vulnerable to attack.
Bobcats resemble a large house cat, averaging about 19 lbs. It has distinctive black bars on its forelegs and a black-tipped, stubby (or "bobbed") tail. 
Bobcats inhabit wooded areas, as well as semi-desert, urban edge, forest edge, and swampland environments. Populations are vulnerable to local extinction by coyotes and domestic animals.
Though these predators are small, do not underestimate their power. The bobcat prefers rabbits and hares for food, but it will also hunt geese, other birds, rodents, and deer. They occasionally prey on small livestock such as sheep, goats, or poultry as well.
Both coyotes and bobcats are typically very shy creatures when it comes to humans. However, they can become dangerous if they are sick or injured.
Coyotes and bobcats can carry rabies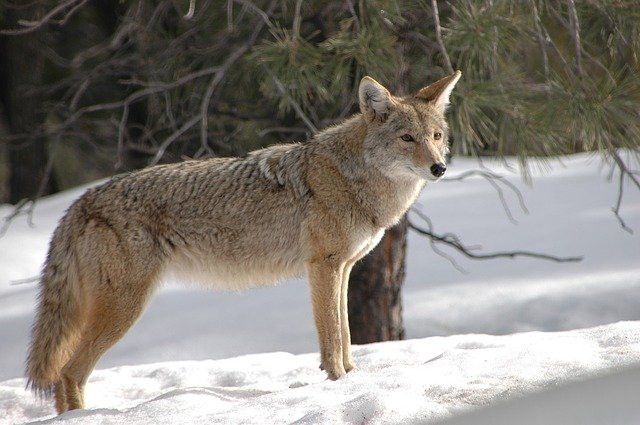 Colorado Coyote & Bobcat Removal
It is possible to keep these predators off your property by managing small mammal populations, such as rodents or rabbits. Closing off crawl spaces around your home and installing an electric fence may help as well. Sometimes more preventative measures need to take place, though, as coyotes are known to dig underneath normal fences.
You should never approach these animals without the proper training and safety equipment, however. If you are dealing with aggressive or persistent wildlife around your home, it is best to call a wildlife professional. San Juan Wildlife has the knowledge and tools to help you with any critter control issue you may be dealing with. Contact us today for a quote or immediate assistance.
We provide animal control and removal services in the following areas:
Allison, Arboles, Bayfield, Cahone, Cortez, Dolores, Dove Creek Durango, Fort Lewis, Gem Village, Hermosa, Hesperus, Ignacio, Mancos, Marvel, Mesa Verde, Pagosa Springs, Pleasant View, Rico, Silverton, Towaoc, Vallecito, Yellow Jacket.
Southwest Colorado Residents: Get a Free Quote for Coyote/Bobcat Removal and Control
Check Out What Our Clients Are Saying
"Tom was thoughtful and thorough with his wildlife services. I was pleased with his response both to my concerns and to my philosophy with my farm operations. My only regret is not enlisting his services sooner!"
Lee Ann
"Tom is wonderful to work with and super knowledgeable about the best, most efficient, and most importantly HUMANE ways to remove unwanted critters from your property."
Sean Moriarty