Gopher Removal & Control Services
Southwest Colorado Local Animal Control
Gopher Facts!
Scientific name: Geomyidae
Southwest Colorado is home to the Botta's pocket gopher and the Northern pocket gopher, both of which are active year-round.
These gophers dig extensive burrow systems that provide protection and a means of collecting food. While digging, the gophers feed on roots and pull surface vegetation into their tunnel systems. 
These tunnel systems can divert water and cause a significant loss in surface irrigation. This, of course, creates an issue for your crops and fields. 
These animals should never be handled. Gophers carry diseases that can be easily transmitted.
Southwest Colorado Residents: Get a Free Quote for Gopher Removal and Control
Southwest Colorado Local Gopher Control & Removal
Though Southwest Colorado and Northern New Mexico use a variety of removal techniques, our team has determined that the PERC method is the most successful. This method also aligns best with our values.
Using Pressurized Exhaust Rodent Control (PERC) for gopher removal is both safe and humane, while effectively eliminating the problem. The process does not leave behind poison, nor does it require blasting, digging, or trapping. Plus, it is completely safe to use around pets and livestock.
PERC is a state-of-the-art solution that targets burrowing rodents without compromising crops and vegetation or endangering other wildlife. The process involves injecting carbon monoxide into the tunnel system with great accuracy. Then, the gas will spread throughout the tunnel, putting the rodents to sleep. This is safe, humane, and highly effective if it is done under extreme pressure.
Contact us today if you have any questions or need immediate removal.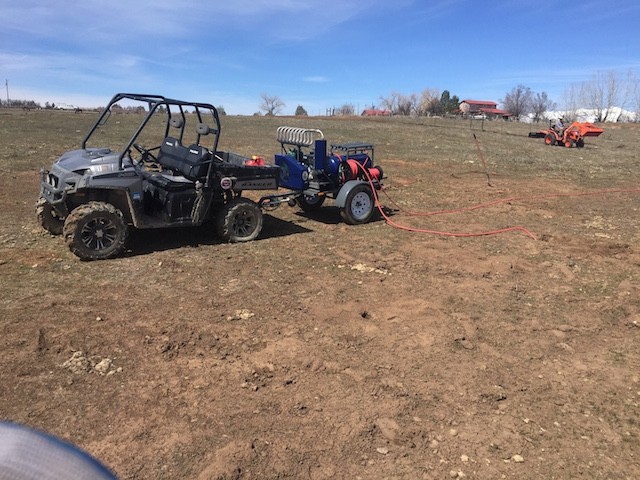 Equipment for servicing gopher and prairie dog holes.
We provide animal control and removal services in the following areas:
Colorado: Allison, Arboles, Bayfield, Cahone, Cortez, Dolores, Dove Creek Durango, Fort Lewis, Gem Village, Hermosa, Hesperus, Ignacio, Mancos, Marvel, Mesa Verde, Pagosa Springs, Pleasant View, Rico, Silverton, Towaoc, Vallecito, Yellow Jacket.
New Mexico: San Juan County, Mickenley County, Sandoval County, Cibola County, Bernalillo County, Valencia County, Socorro County, Sierra County, Catron County, Rio Arriba County
Arizona: Apache County, Navajo County
Utah: San Juan County, Grand County
Also, feel free to ask us about our proprietary deterrent methods!
Check out what our clients are saying
"Our subdivision hired Tom & his company last year to get control over our gopher problem in our common area. We also hired him personally to help us in our backyard, which the gophers had taken over. This year is a whole different story and we are so grateful to San Juan Wildlife for really getting a handle on the problem. We would highly recommend them and their team. Thank you!"
Jeff and Laura Branson
"I just recently used Tom and Jesse's services to get rid of pocket gophers that were threatening to destroy a recently landscaped area. I called Tom to schedule an appointment.  He was very polite and asked pertinent questions about our situation.  We were scheduled quickly and Jesse showed up on time to address our gopher infestation.  Jesse is a great representative for Tom's company.  He was polite, efficient and took the time to educate me about the process.  I strongly recommend them!!"
Chris Bauer
"After trying other services for two years, I finally found the right guy for gopher control on my property. Tom always responds promptly to requests and is thorough with his safe and humane treatments. Thanks, Tom!"
Hildreth Cooper
"Tom Hayes was very professional and got rid of my gophers!"
Jan Lewis