Rabbit Removal & Control Services
Southwest Colorado Local Animal Control
Rabbit Facts!
Scientific name: 

Oryctolagus cuniculus
Rabbits were once considered to be a part of the rodent family until it was discovered that these long-eared critters and other Lagomorphs possess a number of traits rodents lack. 
It's easy to see why rabbits make popular children's book characters and are sometimes kept as pets. They have endearing features and pose no threat to anyone. However, Peter Rabbit can certainly wreak havoc in your garden. 
Rabbit populations can also grow substantially and get out of control when not taken care of in a timely manner. If you would like to have rabbits relocated, we can help.
Southwest Colorado Residents: Get a Free Quote for Rabbit Removal and Control
Rabbits sometimes carry the following diseases:
Rabbit Removal in Colorado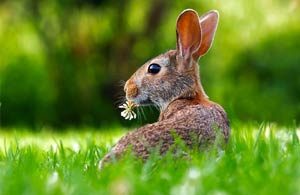 Some of the most common problems we see with rabbits include tearing up lush, green grass in the summer months and taking refuge underneath porches or in crawlspaces.
If you have a garden, a rabbit can come in and take out a sizable portion of your vegetables or plants in just days. They also commonly attract larger predators which can cause even greater issues.
Save yourself the hassle and stress of rabbits damaging your yard or garden by giving San Juan Wildlife a call. As with our other removal services, we use live trapping and relocation techniques that are both safe and humane. 
If you need immediate assistance with a rabbit issue, we are your trustworthy and honest removal experts.
We provide animal control and removal services in the following areas:
Allison, Arboles, Bayfield, Cahone, Cortez, Dolores, Dove Creek Durango, Fort Lewis, Gem Village, Hermosa, Hesperus, Ignacio, Mancos, Marvel, Mesa Verde, Pagosa Springs, Pleasant View, Rico, Silverton, Towaoc, Vallecito, Yellow Jacket.
Check Out What Our Clients Are Saying
"Tom is wonderful to work with and super knowledgeable about the best, most efficient, and most importantly HUMANE ways to remove unwanted critters from your property."
Sean Moriarty
"Tom Hayes was fantastic to work with and I would recommend him to anyone for animal control in the Four Corners. Thanks Tom!"
Tyler Rice
"Tom was thoughtful and thorough with his wildlife services. I was pleased with his response both to my concerns and to my philosophy with my farm operations. My only regret is not enlisting his services sooner!"
Lee Ann