Raccoon Removal & Control Services
Southwest Colorado Local Animal Control 
Raccoon Facts!
Scientific name – 

Procyon lotor
Raccoons are found throughout the US, however, they are more common in eastern woodlands than in the arid west. 
Breeding season for raccoons mainly occurs in February and March. Then, after a gestation period of about 63 days, most litters are born in April or May. The average litter consists of 3 to 5 young.
Raccoons are nocturnal animals. They do not truly hibernate but will become inactive during severe winter weather. Depending on their location, this inactivity could last anywhere between a few days at a time to weeks or months. 
A raccoon's habitat is typically near water in a hardwood forest. They may also take up residence around farmsteads, where food, water, and shelter are plentiful. 
These critters prefer crevices for their dens. This could include hollow trees, abandoned burrows, or muskrat houses. Raccoons may also find shelter in barns, under sheds or porches, and, if accessible, crawl spaces or attics.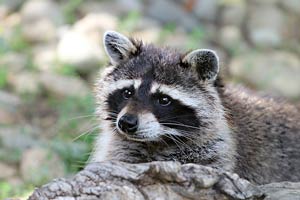 Raccoons can potentially carry diseases such as:
Southwest Colorado Local Raccoon Removal & Control
One of the most common species of wildlife we receive calls about is the raccoon. These creatures love to find shelter near a commercial or residential home, often creating a multitude of issues.
Raccoons are superb climbers and can easily access spaces they have no business being in.  They have been found in basements, crawlspaces, attics, sheds, or wreaking havoc on a chicken coop.
Raccoons in Colorado can be a huge nuisance and issues should be handled promptly. Keep in mind that they can be dangerous and should only be dealt with by a trained professional.
Having the proper training and equipment is essential to safely removing and relocating these pesky animals. A raccoon bite can lead to illness, especially if the raccoon is rabid.
It is also important to note that these animals are protected furbearers in most states, with seasons established for running, hunting, and trapping. There are provisions for landowners to control furbearers that are damaging their property, however, you should always check with your state wildlife agency before using any lethal control methods.
If you are dealing with a raccoon issue, please do not hesitate to reach out to San Juan Wildlife Services. Whether the critter is in your home, harassing your chickens, or getting into your trash, we can take care of the situation.
As always, our services make sure to remove and relocate the animal safely and humanely.
Give us a call today for a free quote on raccoon removal. 
We provide animal control and removal services in the following areas:
Allison, Arboles, Bayfield, Cahone, Cortez, Dolores, Dove Creek Durango, Fort Lewis, Gem Village, Hermosa, Hesperus, Ignacio, Mancos, Marvel, Mesa Verde, Pagosa Springs, Pleasant View, Rico, Silverton, Towaoc, Vallecito, Yellow Jacket.
Check Out What Our Clients Are Saying
"Tom was fantastic! We had a nuisance raccoon that needed a little extra incentive and Tom was great. He was fast and very professional. He also checked in with us regularly. I would recommend San Juan Wildlife Services. It is refreshing to deal with someone of integrity."
Maria
"Tom saved the day, and the rest of the chickens, when I found the raccoon in the hen house. Thanks, Tom, for responding so quickly on a Sunday morning!"
L.A.H.