Bat Removal & Control Services
Southwest Colorado Local Bat Control & Removal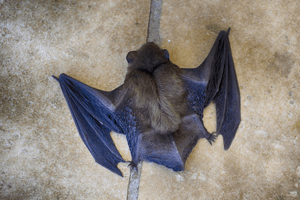 There are 18 species of bats in Colorado. Some are here year-round and some will migrate to warmer climates in the winter.
Bats play a valuable role in ecosystems. They devour tremendous quantities of insects, mostly at nighttime. During the day, they will nest in structures that offer small and dark hiding places. In Durango and surrounding areas, many of the older and mountain-style homes offer such hiding places.  If you have bats in your structures, we can help! We will remove your bat colony with safe and humane methods. Contact us today for professional bat removal services.
Southwest Colorado Residents: Get a Free Quote for Bat Removal and Control
Bat Removal in Colorado
According to Colorado Parks and Wildlife, bats are the primary host for rabies in Colorado. In the last 20 years, 98% of the animals that tested positive were bats. While this is an alarming statistic, only 1% of bats in their own natural environment have rabies and 5-10% that come in contact with people while not behaving normal.
Concerning behavior could be flying out of control, acting sick or being on the ground, hanging out by themselves in the day time etc.
Capturing a bat or removing a colony should be done by an informed, prepared professional. If you need immediate assistance with a bat issue, do not hesitate to reach out to us San Juan Wildlife LLC. As with all of our services, we will make sure to remove the bats in a safe and humane manner.
We provide animal control and removal services in the following areas:
Allison, Arboles, Bayfield, Cahone, Cortez, Dolores, Dove Creek Durango, Fort Lewis, Gem Village, Hermosa, Hesperus, Ignacio, Mancos, Marvel, Mesa Verde, Pagosa Springs, Pleasant View, Rico, Silverton, Towaoc, Vallecito, Yellow Jacket.