Bat Removal & Control Services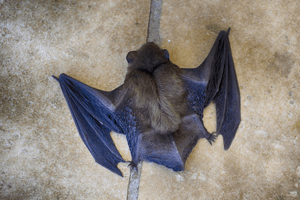 Do you have bats in your attic? Or perhaps, they have found a way into your building and you have no idea where they came from!
In Southwest Colorado, it is common for bats to find small openings in both residential and commercial buildings to help protect their colonies from other predators.
If this is the case, we can use humane bat removal methods including screening and caulking to make sure that the problem is solved quickly and safely.
Contact us today for immediate removal and services dealing with bats in southwest Colorado.
Southwest Colorado Residents: Get a Free Quote for Bat Removal and Control
Bat Removal in Colorado
Dealing with bats can be a potentially dangerous situation for both humans and for the wildlife. It is recommended to call a professional that is experienced in dealing with keeping bats out.
When we come out to your property, we make sure to inspect the entire commercial or residential area to make sure any and all points of entry and taken care of to remove and further issues in the future.
We will not only fill any holes or voids that may be a barrier of entry for bats, but we will deodorize and sanitize any areas that have been compromised by bats.
If you need immediate assistance with a bat issue, do not hesitate to reach out to us as San Juan Wildlife LLC. As with all of our services, we will make sure to remove and relocate the bats in a safe and humane manner.
We provide animal control and removal services in the following areas:
Allison, Arboles, Bayfield, Cahone, Cortez, Dolores, Dove Creek Durango, Fort Lewis, Gem Village, Hermosa, Hesperus, Ignacio, Mancos, Marvel, Mesa Verde, Pagosa Springs, Pleasant View, Rico, Silverton, Towaoc, Vallecito, Yellow Jacket.