Fox Removal & Control Services
Southwest Colorado Local Animal Control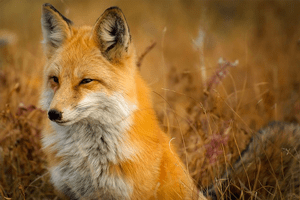 Fox Facts!
Foxes are naturally skittish critters and will typically run or hide from people. 
There are four species of foxes native to Colorado. They are the Red, Kit, Swift, and Grey fox. 
Foxes live for around 2-3 years in the wild. They are carnivores whose diet consists mainly of rabbits and birds, but can also include household pets such as cats or dogs. Watch out for your small animals if they go outdoors!
While they are often harmless, a fox can cause damage to your property and wreak havoc on small livestock. They are also known to carry diseases such as rabies, which can be spread to you or your pets if bitten. 
Southwest Colorado Residents: Get a Free Quote for Fox Removal and Control
Fox Removal in Colorado
Please don't put yourself at risk by handling a pesky fox on your own. If you are dealing with a fox issue on your residential or commercial property in Colorado, we can help!
San Juan Wildlife Services strives to take care of any wildlife issues in a way that is humane, safe, and effective. We will remove your problem fox using live trapping and relocation. 
 Contact us today for a quote or immediate removal and services dealing with foxes.  
We provide animal control and removal services in the following areas:
Allison, Arboles, Bayfield, Cahone, Cortez, Dolores, Dove Creek Durango, Fort Lewis, Gem Village, Hermosa, Hesperus, Ignacio, Mancos, Marvel, Mesa Verde, Pagosa Springs, Pleasant View, Rico, Silverton, Towaoc, Vallecito, Yellow Jacket.
Check Out What Our Clients Are Saying
"Tom Hayes of San Juan Wildlife Services is great to work with! He is incredibly responsive, professional, and easy to work with. He responded in a timely fashion and offered same-day services. We plan to use him in the future and would highly recommend him to others!"
Mary Beth Miles
"Tom is wonderful to work with and super knowledgeable about the best, most efficient, and most importantly HUMANE ways to remove unwanted critters from your property."
Sean Moriarty
"Tom Hayes was fantastic to work with and I would recommend him to anyone for animal control in the Four Corners. Thanks Tom!"
Tyler Rice