Rabbit Removal & Control Services
Southwest Colorado Local Animal Control & Removal
Rabbits, while posing no threat to any person, can still create issues with a homeowner's yard and be destructive. 
Some of the more common problems we see with rabbits is tearing up lush, green grass in the summer months and taking refuge underneath porches or in crawlspaces. 
Not only that, but a rabbit population can grow substantially and get out of control if not taken care of in a timely manner. If you would like to relocate some rabbits, we can help.
Like any of our services, we use live trapping and relocation techniques that are safe and humane. 
Contact us today for immediate removal and services dealing with rabbits in southwest Colorado.
Southwest Colorado Residents: Get a Free Quote for Rabbit Removal and Control
Rabbit Removal in Colorado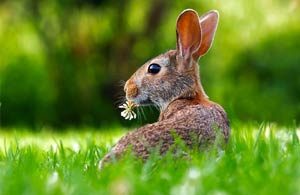 There is no doubt that rabbits are cute. But even with that, they can easily tear up your garden or yard. Not only that but in southwest Colorado, they can commonly attract larger predators which can cause major issues.
If you have a garden, a rabbit can come in and take out a sizable portion of your vegetables or plants in just days. Save yourself the hassle and stress of rabbits damaging your yard.
If you need immediate assistance with a rabbit issue, do not hesitate to reach out to us as San Juan Wildlife LLC. We are your trustworthy and honest rabbit removal experts.
We provide animal control and removal services in the following areas:
Allison, Arboles, Bayfield, Cahone, Cortez, Dolores, Dove Creek Durango, Fort Lewis, Gem Village, Hermosa, Hesperus, Ignacio, Mancos, Marvel, Mesa Verde, Pagosa Springs, Pleasant View, Rico, Silverton, Towaoc, Vallecito, Yellow Jacket.