Skunk Removal & Control Services
Southwest Colorado Local Animal Control & Removal
Are you dealing with a skunk problem on your property in southwest Colorado? We can help!
As your skunk removal professionals, we offer trapping services for these pesky friends that are safe and humane. Whether it is a commercial or residential property, we can take care of the skunk issue quickly and effectively.
Contact us today for immediate removal and services dealing with skunks in southwest Colorado.
Southwest Colorado Residents: Get a Free Quote for Skunk Removal and Control
Skunk Problems in Colorado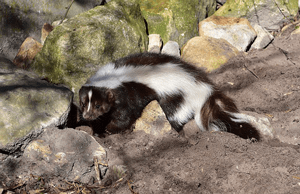 Skunks are considered to be a nuisance animal in the southwest Colorado region. Why? Well, you guessed it… the smell!
The odor that these animals produce can be incredibly difficult to tolerate, especially when you have them living on your property. As your skunk removal professionals, we can make sure to take care of the skunk issue in a quick manner.
They are also found in other places than the yard. In Colorado, skunks can be found in attics or crawl spaces of homes, which can lead to a very stinky evening!
If you need immediate assistance with a skunk issue, do not hesitate to reach out to us as San Juan Wildlife LLC.
We provide animal control and removal services in the following areas:
Allison, Arboles, Bayfield, Cahone, Cortez, Dolores, Dove Creek Durango, Fort Lewis, Gem Village, Hermosa, Hesperus, Ignacio, Mancos, Marvel, Mesa Verde, Pagosa Springs, Pleasant View, Rico, Silverton, Towaoc, Vallecito, Yellow Jacket.