Squirrel Removal & Control Services
Southwest Colorado Local Animal Control
Squirrel Facts!
Two of the most common squirrel species found in Southwestern Colorado are the Abert's and the gray squirrel. The tufted ears of the Abert's squirrel make it easily identifiable from the more quintessential gray. Also, the Abert's is almost exclusively found in Ponderosa Pine regions.
Squirrels are cavity dwellers. Most prefer to nest in hollow trees or buildings – such as human-made squirrel boxes or in the crawlspaces and attics of people's homes. They may also make leaf nests in the limbs of trees during warmer weather. 
The breeding season typically occurs in mid-December to early January. After a 42-45 day gestation period, young are born hairless, blind, and with ears still closed. They will not start exploring outside the nest until they reach 10 to 12 weeks of age. The survival rate of a squirrel's litter is much higher in cavity nests.  
Southwest Colorado Residents: Get a Free Quote for Squirrel Removal and Control
Squirrels are not known to harbor diseases dangerous to humans. They are vulnerable to several parasites, however.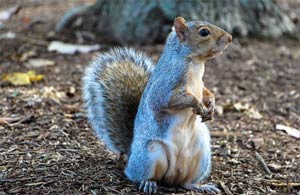 Squirrel Problems & Removal in Southwest Colorado
Squirrels are one of the most common species of wildlife that we receive calls about. While they may be small in size, they can turn out to be a huge nuisance in a rather small amount of time.
Squirrels in Southwest Colorado are notorious for gnawing holes in a home to get indoors, tearing up attic space, or making their nest in a homeowner's crawl space.
It is important to reach out to an animal control professional the minute you notice a squirrel infestation in your home. This can include:
Chewing through walls or screen doors
Rummaging around your attic
Digging holes around your home
Or nesting in your crawlspace
As with all of our services, we can help remove and relocate these pesky critters humanely and safely. If you have any questions or need immediate assistance with a squirrel issue, do not hesitate to reach out to San Juan Wildlife LLC.
We provide animal control and removal services in the following areas:
Allison, Arboles, Bayfield, Cahone, Cortez, Dolores, Dove Creek, Durango, Fort Lewis, Gem Village, Hermosa, Hesperus, Ignacio, Mancos, Marvel, Mesa Verde, Pagosa Springs, Pleasant View, Rico, Silverton, Towaoc, Vallecito, Yellow Jacket.
Check Out What Our Clients Are Saying
"Tom was thoughtful and thorough with his wildlife services. I was pleased with his response both to my concerns and to my philosophy with my farm operations. My only regret is not enlisting his services sooner!"
Lee Ann
Tom has a gift in working with animals. We would absolutely recommend him to anyone with a critter issue.
MB
"Tom Hayes was fantastic to work with and I would recommend him to anyone for animal control in the Four Corners. Thanks Tom!"
Tyler Rice