Wasp Removal & Control Services
Southwest Colorado Local Animal Control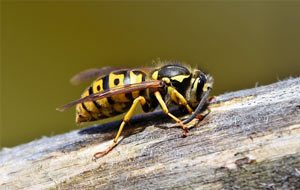 Wasps
Nobody likes to be stung by a wasp or hornet. It can ruin any outdoor activity (especially if you are allergic).
In Southwest Colorado, there are numerous varieties of wasps and hornets. Many of which can sting.
A wasps stinger is loaded with venom, which for some only results in a small, painful bump, while others can experience a terrible reaction. Whether or not you are allergic, we understand that wasp eradication can be extremely important for your business and family.
Southwest Colorado Residents: Get a Free Quote for Bee/Wasp Removal and Control
Wasp Removal & Prevention in Colorado
There are many products on the market that can help prevent wasps from nesting around your property, but even with these products (namely sprays), it is often too late to use them if a nest has already formed.
If you have any questions or are in need of immediate assistance with a wasp issue, do not hesitate to reach out. San Juan Wildlife has the resources and experience to take care of any potentially dangerous situation in a quick and safe manner.
We provide animal control and removal services in the following areas:
Allison, Arboles, Bayfield, Cahone, Cortez, Dolores, Dove Creek Durango, Fort Lewis, Gem Village, Hermosa, Hesperus, Ignacio, Mancos, Marvel, Mesa Verde, Pagosa Springs, Pleasant View, Rico, Silverton, Towaoc, Vallecito, Yellow Jacket.
Check Out What Our Clients Are Saying
"This is a good company for serving any of the problems you might have. Call Tom Hayes, he has the knowledge and does a great job. Highly recommend him."
Mary Bates
"Tom Hayes of San Juan Wildlife Services is great to work with! He is incredibly responsive, professional, and easy to work with. He responded in a timely fashion and offered same-day services. We plan to use him in the future and would highly recommend him to others!"
Mary Beth Miles