Services
Southwest Colorado Animal Control
Our Three-Pronged Approach to Wildlife Control
Prevention Services
At times a simple adjustment can prevent a lifetime of  future issues, damages, and expenses.
Through extensive inspection and evaluation, our  wildlife specialists will offer suggestions for changing  the environment in a way that could eliminate future  problems. 
​Removal Services
When prevention methods are out of the question, we will remove the nuisance animal(s) from your property. This sometimes requires several trips to the location in order to assure that all activity has stopped.
We strive to find the most humane approach when removing animals. Customer input is always encouraged.
Exclusion Services
Once the problem has been removed, we will determine if there is a cost effective approach to eliminating future issues through patching and repairing entrance areas, fencing, buried hard cloth, trimming vegetation etc.
Our team will make every effort to ensure all animals have been removed before any exclusion is applied. We do not want a mother separated from her nest with suffering babies in an enclosed structure. 
Wasp removal at a Colorado cabin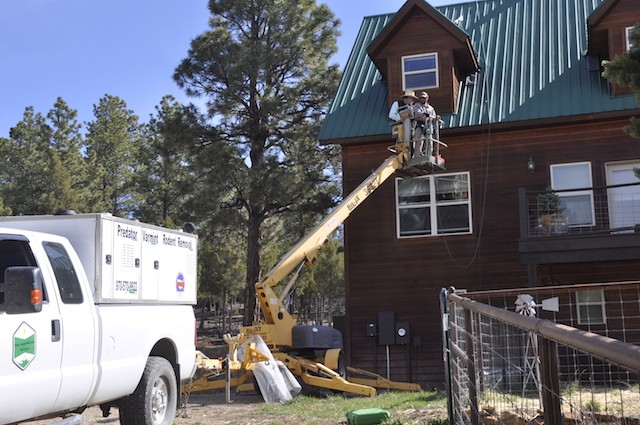 Our crew installing bat control devices on a mountain home.
Predators such as coyotes, bobcats, and foxes can pose a serious threat to pets and small livestock (calves, sheep and goats, poultry). Not only might they prey on your animals, these critters can also carry diseases spreadable to people or cause damage to fences and other structures. 
Coyotes can become particularly dangerous when they hunt in packs. If you notice a social unit or individual lingering around your property or causing issues among livestock, please don't hesitate to give us a call.
San Juan Wildlife is equipped to remove and relocate any small to mid-sized predator. As always, we will do so in a way that is safe, humane and effective.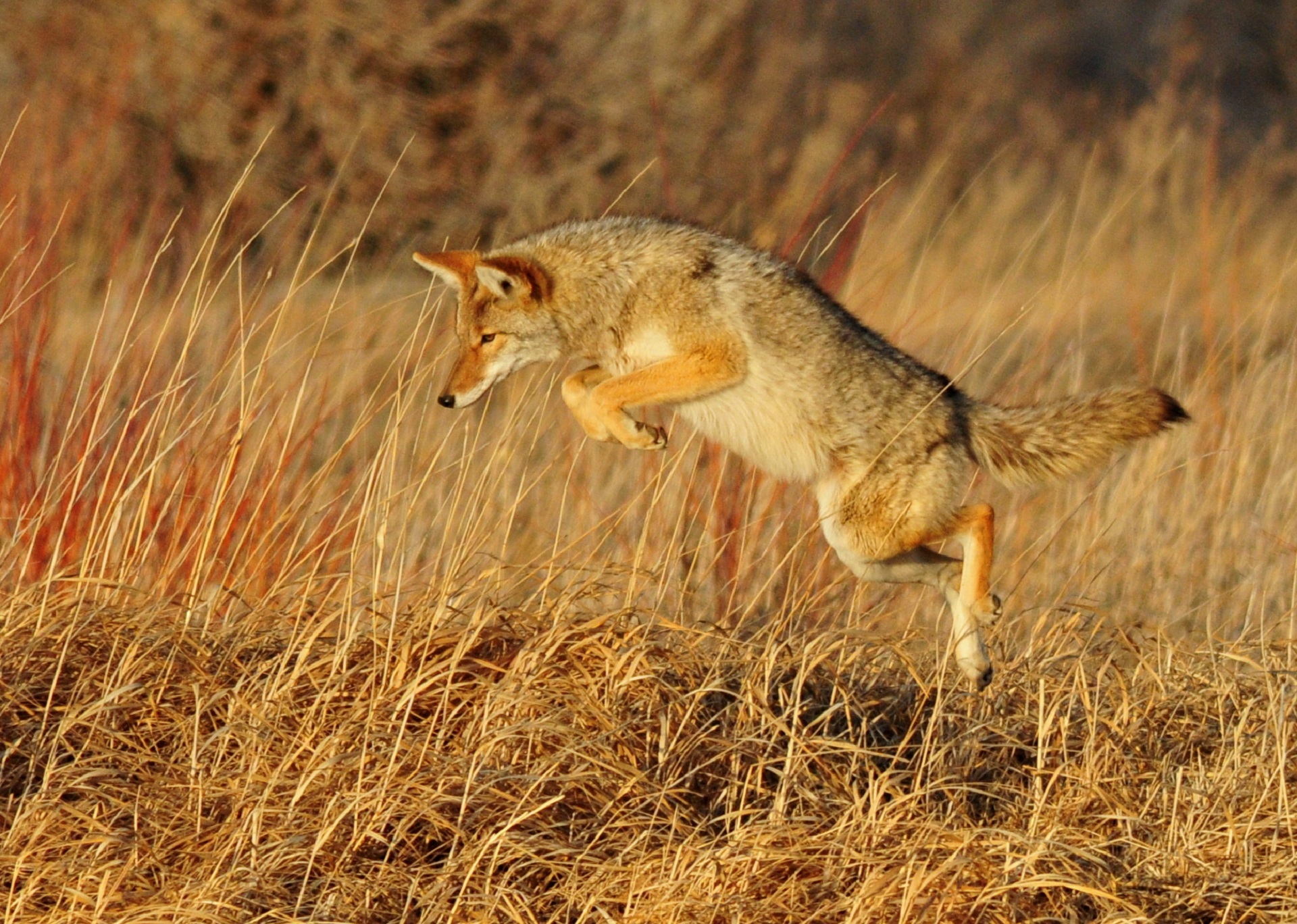 PERC Burrowing Rodent Removal 
Burrowing rodents, such as gophers and prairie dogs, carry diseases harmful to livestock, domestic animals, and humans. They also create dangerous surface conditions and cause damage to parks, play grounds, agricultural fields and Ag equipment.
It is important to eliminate any threats from these rodents quickly and successfully. Our team has determined that the PERC method (Pressurized Exhaust Rodent Control) is the most successful, while also aligning with our values. PERC is safe, humane, and highly effective. Plus, it does not involve poison, blasting, digging or trapping.
This state-of-the-art solution targets burrowing rodents without compromising crops and vegetation or endangering other wildlife. The process involves injecting carbon monoxide into the tunnel system with great accuracy. Then, the gas will spread throughout the tunnel, putting the rodents to sleep.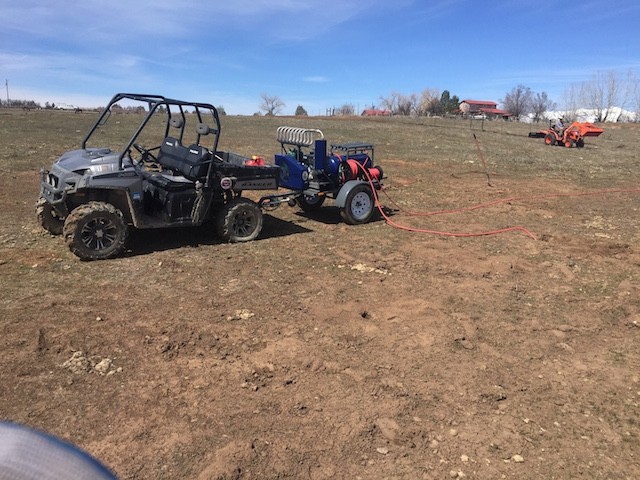 Equipment for servicing gopher and prairie dog holes.
"Our subdivision hired Tom & his company last year to get control over our gopher problem in our common area. We also hired him personally to help us in our backyard, which the gophers had taken over. This year is a whole different story and we are so grateful to San Juan Wildlife for really getting a handle on the problem. We would highly recommend them and their team. Thank you!"
Jeff and Laura Branson
"Fast, efficient, and courteous Service! We were very pleased with San Juan Wildlife Services. They removed our Bats, and sealed up our cabin! They came promptly to survey our property, gave us a detailed description of bats' behavior, how they get in, and what San Juan Wildlife does to ensure none get back in. We appreciated the promptness and the hard work of Tom and his crews. Plus, it was reasonably priced. Hats off!!!!!"
Richard Lehman
"Tom Hayes of San Juan Wildlife Services is great to work with! He is incredibly responsive, professional, and easy to work with. He responded in a timely fashion and offered same-day services. We plan to use him in the future and would highly recommend him to others!"
Mary Beth Miles
Let us help you remove nuisance wildlife today!
Call 970-570-9922 to speak with one of our Wildlife Specialists directly or