Deer Removal & Control in Colorado
Southwest Colorado Local Animal Control
Oh, Deer!
Scientific name: Odocoileus hemionus
Deer are even-toed ungulates in the Cervidae family. There are two primary species in North America – white-tailed and mule. Mule deer are found here in Southwest Colorado.
Ideal habitat for these animals is forest edge. They thrive in agricultural areas interspersed with woodlands and riparian habitat.
Decades ago, an overpopulation of deer would not have been an issue.
Now,  it seems that if you decide to take a drive through Southwest Colorado at night, you are rolling the dice on hitting a deer.
Part of this is due to the lack of natural predators. With the erasure of large mammals from this region – such as wolves and the grizzly bear – deer populations have been able to grow mostly unhindered.
Other than the potential of hitting a deer while driving, these animals do not pose much of a threat to people. However, they can become a nuisance in your garden or crop fields.
Southwest Colorado Residents: Get a Free Quote for Deer Removal and Control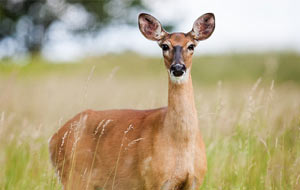 Deer assist in the movement and development of ticks that carry diseases. They can also be resevoirs for bovine tuberculosis.
Deer Removal in Colorado
In the Four Corners region, deer can cause issues by eating desirable vegetation, including crops and landscaping on both residential and commercial properties.
While it is very unlikely to simply remove an entire population of deer from your property, there are measures that can be taken to prevent them from becoming a nuisance for you.
Wildlife fencing can be quite helpful, but if this is out of the question, trapping and relocation are possible. 
If you have any questions or are in need of immediate assistance with a deer issue, do not hesitate to reach out to us. San Juan Wildlife is here to take care of all of your nuisance wildlife needs. 
We provide animal control and removal services in the following areas:
Allison, Arboles, Bayfield, Cahone, Cortez, Dolores, Dove Creek Durango, Fort Lewis, Gem Village, Hermosa, Hesperus, Ignacio, Mancos, Marvel, Mesa Verde, Pagosa Springs, Pleasant View, Rico, Silverton, Towaoc, Vallecito, Yellow Jacket.
Check Out What Our Clients Are Saying
"Tom Hayes of San Juan Wildlife Services is great to work with! He is incredibly responsive, professional, and easy to work with. He responded in a timely fashion and offered same-day services. We plan to use him in the future and would highly recommend him to others!"
Mary Beth Miles
"This is a good company for serving any of the problems you might have. Call Tom Hayes, he has the knowledge and does a great job. Highly recommend him."
Mary Bates