Gopher Removal & Control Services
Southwest Colorado Local Gopher Control & Removal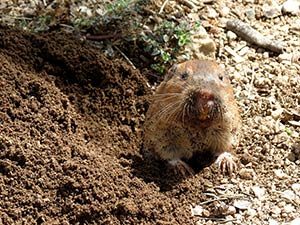 Southwest Colorado is home to Botta's and Northern pocket gophers, both of which are active year-round. These gophers dig extensive burrow systems that provide protection and a means of collecting food. While digging, the gophers feed on roots and pull surface vegetation into their tunnel systems. These tunnel systems can divert water and cause a significant loss in surface irrigation.
Pocket gophers generally breed in the spring. A typical litter consists of 3–4 young but can be as large as twelve, and multiple litters within a season are possible. Females can breed within 3 months of birth.
As rodents, gophers can carry diseases such as lymphocytic choriomeningitis (LCM), hantavirus, and leptospirosis. The animals should not be handled, as these diseases can be easily transmitted.
Southwest Colorado Residents: Get a Free Quote for Gopher Removal and Control
Gopher Removal in Colorado
In Southwest Colorado and northern New Mexico, removal methods include trapping, poisoning, blasting, and tunnel injection with carbon monoxide.
Trapping, which involves digging and setting two traps per tunnel, yields limited results. Poisoning is also problematic: the poison must be deposited into an active tunnel and requires several ingestions to be effective. There is also the possibility that the poison will be pushed to the surface, causing unwanted consequences. Blasting is expensive and causes more damage to an already-compromised earth structure.
Then there is carbon monoxide: this gas must be injected into the tunnel system with great accuracy, and then spread throughout that system to put the rodents to sleep. This is safe, humane, and very effective if it is done under extreme pressure. San Juan Wildlife Services will address your gopher problem using the PERC (Pressurized Exhaust Rodent Controller) system manufactured by H&M. This is a state-of-the-art solution that targets burrowing rodents without compromising crops and vegetation or endangering other wildlife.
We provide animal control and removal services in the following areas:
Allison, Arboles, Bayfield, Cahone, Cortez, Dolores, Dove Creek Durango, Fort Lewis, Gem Village, Hermosa, Hesperus, Ignacio, Mancos, Marvel, Mesa Verde, Pagosa Springs, Pleasant View, Rico, Silverton, Towaoc, Vallecito, Yellow Jacket.