Gopher Removal & Control Services
Southwest Colorado Local Animal Control & Removal
Burrowing rodent tunnels can weaken supporting bearing zones for foundations, destroy plants, damage dams, and cause irrigation water to migrate to an unwanted area.
Gophers should be removed and relocated before any of these issues get out of hand. We are trained and have experience dealing with gophers and will be able to help you take care of them in a safe, quick, and humane manner.
Contact us today for immediate removal and services dealing with gophers in southwest Colorado.
Southwest Colorado Residents: Get a Free Quote for Gopher Removal and Control
Pocket Gophers in Colorado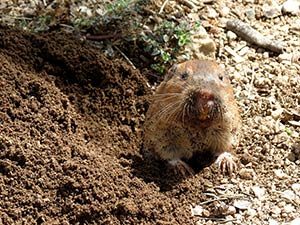 Pocket Gophers may be small, but they are extremely powerful burrowing rodents. For a vast majority of the time, they live and feed underground away from sight.
Aside from the common pocket gopher, the other gopher species found in southwest Colorado include the Northern Pocket Gopher and Botta's Pocket Gopher.
While they usually have brown fur that closely matches the soil they live in, they can also be grey in color. The term "pocket" comes from one of their most noticeable characteristics, their large cheek pouches.
Gophers dig extensive burrow systems that provide protection and is a means of collecting food. These tunnel systems can easily be spotted with dirt piles that are sized anywhere from a baseball to the size of a bucket.
If you need immediate assistance with a gopher issue, do not hesitate to reach out to us as San Juan Wildlife LLC.
We provide animal control and removal services in the following areas:
Allison, Arboles, Bayfield, Cahone, Cortez, Dolores, Dove Creek Durango, Fort Lewis, Gem Village, Hermosa, Hesperus, Ignacio, Mancos, Marvel, Mesa Verde, Pagosa Springs, Pleasant View, Rico, Silverton, Towaoc, Vallecito, Yellow Jacket.