Prarie Dog Removal & Control Services
Southwest Colorado Local Animal Control
Prairie Dog Facts!
Gunnison's prairie dogs are found primarily in the Four Corners region of North America. They are part of the squirrel family of rodents and can live in communities of hundreds of individuals.
You can tell this species apart from other rodents by their yellow-toned coat, peppered with black hairs. Their head also tends to be distinctively darker than the rest of their body.
Another telling characteristic is the placement of their eyes. The prairie dog has wide peripheral vision due to the location of the eyes on the sides of their heads. This allows the animal to spot predators more quickly. 
While prairie dogs are cute, they should never be handled. These animals carry diseases that can be easily transmitted. They can also cause quite a bit of damage to your property.
Southwest Colorado Residents: Get a Free Quote for Prairie Dog Removal and Control
Prairie Dog Removal
Prairie dogs can be a nuisance to any homeowner. Their tunneling can tear up gardens and cause damage to the foundation of a structure. They are notorious for digging, gnawing, and chewing. The presence of prairie dogs can also attract unwanted predators to your home. 
San Juan Wildlife Services strives to take care of your rodent issues in a way that is humane and effective. Though, Southwest Colorado and Northern New Mexico use a variety of removal techniques, our team has determined that the PERC method is the most successful while also aligning with our values.
Using Pressurized Exhaust Rodent Control ( PERC) is both safe and humane, while effectively eliminating the problem. There is no poison left behind, no blasting, digging or trapping. This method is also completely safe around pets and livestock.
PERC is a state-of-the-art solution that targets burrowing rodents without compromising crops and vegetation or endangering other wildlife. The process involves injecting carbon monoxide into the tunnel system with great accuracy. Then, the gas will spread throughout the tunnel, putting the rodents to sleep. This is safe, humane, and highly effective if it is done under extreme pressure.
Contact us today if you have any questions or are in need of immediate removal.
Also, feel free to ask us about our proprietary deterrent methods!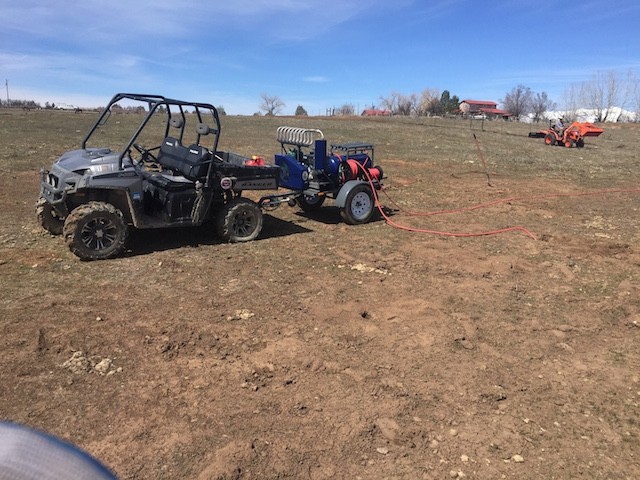 Equipment for servicing gopher and prairie dog holes.
We provide animal control and removal services in the following areas:
Allison, Arboles, Bayfield, Cahone, Cortez, Dolores, Dove Creek Durango, Fort Lewis, Gem Village, Hermosa, Hesperus, Ignacio, Mancos, Marvel, Mesa Verde, Pagosa Springs, Pleasant View, Rico, Silverton, Towaoc, Vallecito, Yellow Jacket.
Check Out What Our Clients Are Saying
"Tom Hayes of San Juan Wildlife Services is great to work with! He is incredibly responsive, professional, and easy to work with. He responded in a timely fashion and offered same-day services. We plan to use him in the future and would highly recommend him to others!"
Mary Beth Miles
"I worked with Tom on a property in CO and he was excellent to work with! I would highly recommend him and will be using his services in the future."
Charlie Celsi
"Tom is wonderful to work with and super knowledgeable about the best, most efficient, and most importantly HUMANE ways to remove unwanted critters from your property."
Sean Moriarty