Big Game Survey
San Juan Wildlife Services, LLC.
Introduction
San Juan Wildlife Services surveyed for big game presence at four different locations within the San Juan National Forest. These surveys took place at reservoirs located in the vicinity of Haycamp Mesa. Protocols for conducting this study included walking the perimeter of each body of water and observing tracks, scat, or other signs left by big game. Reservoir conditions and forage quality were noted as well. ArcGIS, along with field apps including Survey 123 and Collector, were utilized to record data in the field and provide accurate mapping resources.
Findings
Three of the four reservoirs visited showed signs of recent use. At Reef Pasture and neighboring, unnamed, reservoir multiple game trails were found converging at the water source, as well as deer tracks and scat and bear tracks. The water level was low but still plentiful and the surrounding meadow provided a good source of forage for deer and elk.
Upon leaving Reef Pasture a bear was sighted on the road about 200 yards from the water.
Old Logging Camp Reservoir showed signs of recent big-game presence as well. Again, multiple game trails converged at the water source and deer tracks were sighted near the water's edge. This body of water was full of healthy wetland vegetation growing around the banks and excellent forage for deer and elk in the surrounding meadow.
West Buck Reservoir was the only location that showed no recent use. This body of water was small, to begin with, and already dried up, possibly due to the current drought.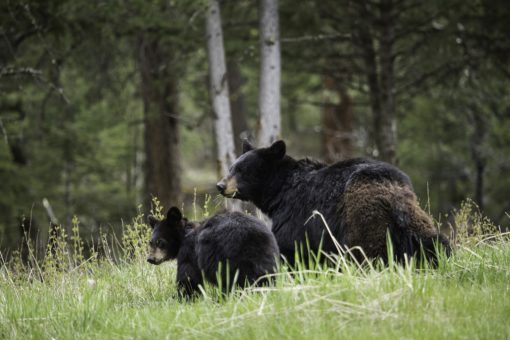 Conclusion
Big game – such as deer, elk, and bear – appear to be frequenting the three out of four water sources surveyed. The three they frequented were all holding water at the time of the survey, the fourth was not. 
Vegetation was moderate to dense around all four survey points, offering excellent forage for elk and deer.
Common berries (such as Serviceberry), which provide a great source of nutrition for bears, have not reached peak season yet. However, numerous logs, where a bear might find grubs, were sighted in the dense forests surrounding the survey areas.
Contact us about setting up a wildlife survey!